A flea market at first glance looks a little intimidating.  That's because most flea markets are full of strange things and sometimes even stranger people.  Most shoppers usually have their heads spinning by the time they've walked the first aisle.  So how does one truly find the great deals and come out on top?
This post is all about the Dos and Don'ts of Flea Market Flipping.  These are tried-and-true secrets for snagging the best flea market finds for flipping, every time!
The Dos of Flea Market Flipping
Be Early
If you're serious about getting the best values and finding the hidden treasures, you'll need to be at the flea market early.  Just like with any kind of treasure hunting (garage sales, thrift stores, dollar stores), the early bird catches the worm.  Be one of the first ones to enter through the gates when they open.
Bring Cash
If you expect to be paying with your checks or credit cards at the flea market, you'll miss out big time.  Many vendors at flea markets don't want the hassle of dealing with bounced checks or credit card fees so they only deal with cash.  So make sure you bring lots of cash with you so you don't miss out on all the great finds.
Get Dirty
Flea markets are full of stuff everywhere, and most of it does not look pretty.  If you're excepting retail store tidiness and cleanliness, you got another thing coming.  Just like house flipping, if you want a big score you have to be willing to take a chance on something others won't.  Get your hands dirty and start digging through the piles of treasure that may look like it's been sitting outside for a decade.  Take your time and make sure you don't miss out on the solid wood table under the rusted tool box.
Look for Quality
There are a ton of quality household items and furniture at flea markets.  These items might not look the greatest and can be in rough shape but overlook the small details and look at the bigger picture.   For example, solid wood furniture.  Pieces might be faded or have scratches and the doors might be off its hinges but with a little elbow grease, they can be turned into fabulous modern pieces.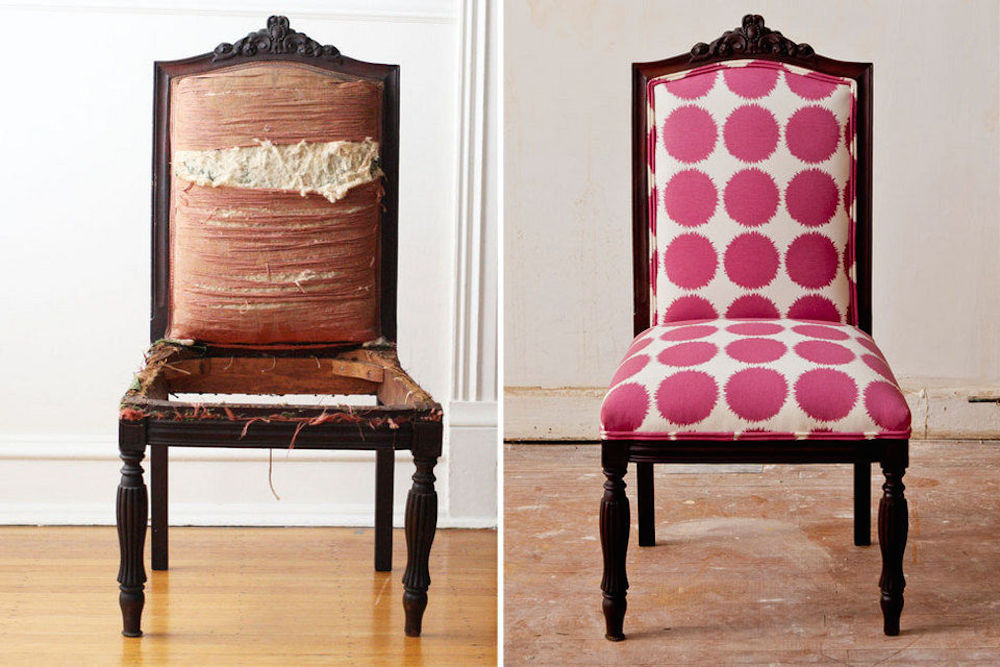 Another example is dirty or really dated upholstered furniture.  For most people, they see these pieces and move on.  But if the quality of the frame, design, and style is there…one can make a killing simply reupholstering the piece.
Negotiate
Everything at a flea market is negotiable so don't buy anything at sticker price.  Especially when you're flipping, you need to maximize your profit.  Do the math ahead of time and calculate how much you'll put into the piece and how much you can sell it for afterward.  Then use that to help you negotiate the price of the item. Don't be afraid to ask for a lower price.
Bring the Right Vehicle
This might sound obvious but almost every flea market shopper has experienced at lease once in their life the headache of not being able to carry the item(s) they bought back home.   If you plan on buying large pieces of furniture, make sure you come with a pickup truck or a large van.  Vendors at flea markets do not offer delivery service nor do they hold furniture for you beyond their normal hours.  So if you arrive with a Camry or Accord and plan on buying a dresser, you better think twice.
The Don'ts of Flea Market Flipping
Be Squeamish
Flea markets are not for the squeamish.  Flea markets can be dirty and unorganized, can have people from all walks of life, and require hardcore negotiations.   So if you are serious about flea market flipping, make sure you come ready.  Be ready to dig for treasure, to talk to people you might not normally talk to and be capable of negotiating the right price.
Second Guess
When you find the right piece at a flea market, make sure you pick it up right away.  Unlike some of the other places you might shop at, flea markets are full of people looking to snatch up bargains or treasure.  If you pass up something because you're second guessing yourself, you might find it gone by the time you circle back.
Become a Horder
If you're looking for things you can flip at a flea market, make sure you target items you already know about and know how to calculate profit margins.  Otherwise, you might up with a bunch of things that you can't make any money off of.  The temptation at a flea market is high, so be disciplined and know your limits.
Go Alone
Many might disagree with me on this one but unless you are looking to pick up a few specific things that can be carried easily, it's always best to go with a buddy or family member.  Having an extra pair of hands is absolutely needed when picking up larger pieces of furniture or household items.
In Conclusion
Flea markets are in a league of their own and truly different than the other venues you might be scouting for items to flip.  You never know who you will meet and you never know what treasure you might uncover.  But just because it might be a little intimidating at first, it doesn't mean you should ignore this method of sourcing due to the great number of items you won't be exposed to anywhere else.  The Dos and Don'ts of Flea Market Flipping will ensure that your trips will be successful ones.  Good Luck!